Fishing has always been a popular form of recreation among residents of large cities. However, in the angler's life there comes a moment when he realizes that he needs a boat for fishing if only because a very small part of the reservoir is accessible from the shore. Yes, and you cannot use any fishing gear and accessories without a boat, because they were originally invented to catch fish from the water.
Fishing Boats
Before those who wish to move from the shore to the water of the fishermen, immediately there is the problem of choosing a craft. Manufacturers offer a very wide range of boats of various types and sizes; to focus only on your wallet becomes impossible. Therefore, in order not to wander in a variety of proposals, you must first clearly define how exactly the boat will be used.
For small reservoirs such as small lakes and rivers with a weak current, any inflatable boat will do, but for fishing on large rivers, a serious watercraft with a motor carrying capacity of approximately 700 kilograms will be required.
The materials, of which the boats are made, too, should be treated with attention. For example, fiberglass boats look very nice and are cheaper than aluminum, but are subject to abrasive wear and eventually collapse under the influence of hydrolysis processes. Inflatable boats made of rubber and PVC requires careful handling and care, they can be accidentally burned (with a cigarette) or cut, but only cheaper counterparts from rubberized fabric are prone to abrasion and rotting.
---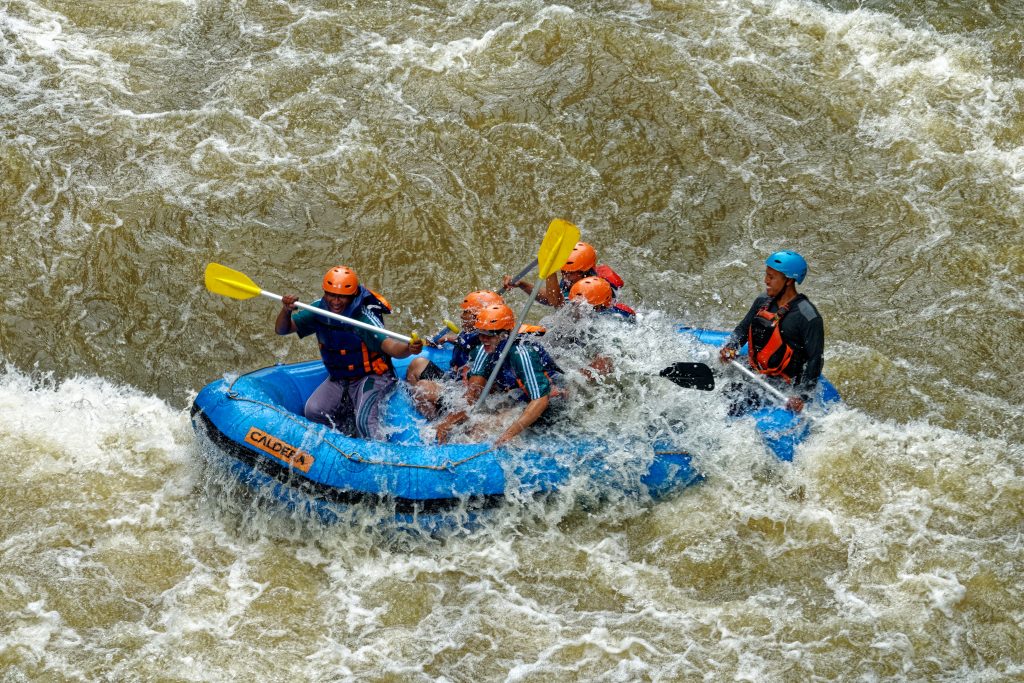 ---
How to choose an inflatable boat
A significant number of fishermen still prefer inflatable boats, mainly because of the convenience of storage and transportation. A small boat per person can be carried independently (its weight is about 35 kilograms, length – up to 3.3 meters), and it does not need a trailer. Boats up to 4.2 meters in size can easily hold two fishermen; for three people, an even longer boat is needed, and it is easier to carry them on removable wheels attached to the transom. Inflatable drones are suitable for beginner fishermen who are going to use them in reservoirs with a small current, but rivers and seas need boats with a keeled bottom, which have better running properties and greater stability.
If we immediately ignore the rubberized fabric, the choice of the material of the craft will be reduced to PVC and reinforced PVC. The latter has a greater density, you can even stand on the inflated sides of such a boat, and it will last longer. However, when buying a product, you must carefully inspect the seams for non-glued areas, bubbles, irregularities, and creases. In addition, well-made boats of PVC bottom should be smooth and without wrinkles.
Payols or removable flooring which are equipped with inflatable boats are also inflatable, metal or plywood. The inflatable is easier to handle and is recommended for lone fishermen. The metal provokes criticism from fishermen due to the fact that when moving through it, it rattles and scares the fish, which does not sin plywood, on which even in winter the legs do not freeze. The shape of the flooring is also important: the book is convenient to use, but it does not provide the necessary rigidity of the boat when sliding on the water. Hard pay, consisting of elements that are inserted into each other, are more cumbersome, but in a boat, with it, you can glide. You need to buy best pontoon boat cover too for better maintenance.
How to choose a motor under the boat
When choosing a motor for a boat, it is important to understand that more is not always better, and you need to take just such a motor that suits the chosen watercraft. It makes sense to equip boats up to three meters with a motor with a power up to 5 horsepower; a motor of 15 horsepower is suitable for a boat with a length of 3.5 meters. And only the longest boats – from 4 meters – should be used with a motor capacity of 15-20 horsepower. In general, you need to choose the necessary power based on how many people and the load will be in the boat at the rate of 1 horsepower per 30 kilograms of weight, and you should not take the maximum power motor specified by the manufacturer.
When installed in a boat, the weight of the motor itself plays a big role, because of which two-stroke motors consuming more fuel can win against the background of their four-stroke counterparts, since they do not shift the center of gravity and will not lead to the boat turning over. They are easier to maintain and do not frighten the fish at idle. The brand also matters: domestic manufacturers have proven poorly, but the Japanese boat engines Yamaha, Honda, and Suzuki deservedly enjoy the trust of consumers due to their good quality.
In conclusion, the professionals recommend future fishermen not to forget about safety and always buy the best pontoon boat grill, life ring or vest along with the boat.

What bottom is better to choose?
There are 2 options for flooring from moisture-resistant plywood and metal. You can prefer plywood – the bottom with its maximum reliable characteristics-features.
The bottom can always be changed, God forbid, something happens to it.
The metal bottom for an inflatable boat constantly rattles when you move on it accordingly no silence.
In the summer it is cold and not pleasant to the touch (we are also barefoot fishing).
And advice! Choose plywood gray or brown, but not green.

Which material of an inflatable boat is better which manufacturer is more reliable?
My preference, like that of many other experienced anglers, is the inflatable boats and PVC of the Korean manufacturer the most reliable and best. Korean boats have proven themselves with full equipment, with any kind of fishing, with any surface and character of the reservoir. Experienced fishermen choose Korea! Not very and better not to choose such boats the manufacturer.

Selection of a PVC boat for spinning fishing by type and size
There are 2 options for inflatable boats punt and keel. The pitching has one weighty advantage. Inflatable boat to manage easier and safer! In size, here expert will advise you 3 options PVC boats for fishing for spinning as well as for another type of fishing:
Three-meter (3 meters) with a motor of 5 horses.
Three-and-a-half and a half (3.5 meters) with a 10-15 horsepower outboard motor.
And four-meter (4 meters) with an outboard motor of 15-20 horses.
The first is more suitable for day fishing. It is easier, but it is more convenient to cope all together. Choose no more than 35 kg by weight.
---