The days of having to rough it in the wilderness are long gone. With the advancement of technology, we can now enjoy some of the luxuries of civilization in the outback. Plus with our ever-growing reliance on high tech gadget's one thing, they all have in common is the need for power. Today's class on mini inverter generators will fit the bill and keep your gadgets powered up will roughing it in the wilds. After compiling the data we have found these ten portable generators to be the highest ranking through customer feedback and reviews.
Here are some of the key elements we have taken into consideration. First, we looked for only the highest rated manufacturers, These manufacturers are all known for producing high-quality products and standing behind them. We also had to consider the generators portability, ease of use. Another important element was the ability to safely charge handheld devices like smartphones and tablets without damaging them. Next was the length of time the generator can produce power on a tank of gas, the wattage output, warranty, and price.
The last element considered for this review was how loud the generator is when operating. We felt this was important as well because nobody wants to sit next to the roar of a lawnmower engine at full throttle when kicking back in their lawn chair.
Here are our top ten picks for the best generators for your next camping trip.
---
1.) Ryobi -RYI 2300
---
---
 
Whether you are tailgating, camping or on the job site, the Ryobi Bluetooth 2,300-Watt Inverter Generator is ready with clean, quiet power for any occasion. With 2,300 Starting Watts and 1,800 Running Watts, this generator is whisper quiet and is safe for most sensitive electronics. Conveniently monitor power consumption, fuel level, runtime remaining and even remotely shut off your generator with the GENControl app on your Apple or Android smartphone. This Inverter is equipped with Idle-Down technology for increased fuel efficiency and rear wheels with an extending handle for easy transportation. It is also parallel capable, so when larger power demands are needed you can link two Ryobi inverter generators together for twice the power. Backed by a 3-year Manufacturer Warranty.
Features:
1800 Running Watts
2300 Starting Watts
1.2 Gallons Fuel Tank Capacity
(2) 120V AC 20 Amp
(2) 5V DC 2.1 Amp USB
Weight: 53 lbs.
Parallel Capable
3 Year Limited Warranty
Average Decibel Ratings
25% Load (450 Watts) = 57 dBA
50% Load (900 Watts) = 60.1 dBA
75% Load (1350 Watts) = 64.6 dBA
100% load (1800 Watts) = 67.9 dBA
Average Run Time
25% Load (450 Watts): 10.3 Hours
50% Load (900 Watts): 7.02 Hours
75% Load (1350 Watt): 5.16 Hours
100% load (1800 Watts): 4.3 Hours
GenControl Technology
Fuel Level Monitoring
Remaining Run Time Monitoring
Load Level Monitoring
Auto Idle On/Off
Overload Reset
Remote Shut Off
Total Run Hours
Parallel Kit Monitoring
Additional Features
GenControl Bluetooth Technology
Onboard LCD Monitoring Screen
Auto-Idle Fuel Saving Technology
3 Step Easy Start
Telescoping Handle
Carrying Handles
Rear Rolling Wheels
Parallel Capable
Overload Reset
The Ryobi is also a great value with an average listing price at around $700

---
2.) HONDA EU2200i
---
---
 
The Honda EU2200i packs a punch with 2200 watts power as well as ease of portability. Can be stacked with another EU2200 for even more power and is a name you can trust. More power, Same legendary quality.
The all-new EU2200i delivers 10% more power than the EU2000 – enabling you to power more of what you need, in the same lightweight, compact package. Whether it's an extra refrigerator at home, a larger saw on your construction site, a larger TV at your tailgate party, the EU2200i gives you the power to get more done.
Power for microwave, refrigerators, hairdryer, small AC units, and much more. The EU2200i can operate a wide variety of appliances, making it perfect for portable use at home, camping, on the job site, or much more. Take a look at the applications tab for more examples.
Features:
Honda GXR120 Engine – Commercial grade reliability
The EU2200i is powered by the Honda GXR120 Commercial Series engine. The GXR120 delivers exceptionally quiet, smooth, fuel-efficient performance in a small, lightweight package. The size of a generator's engine directly correlates to how much power it can produce. At 121cc, the GXR120 is at the top of its class – ensuring the EU2200 always produces the power you need to get the job done. Originally developed for heavy-duty construction equipment, the GXR120 also delivers superb durability and reliability.
Super quiet – less noise than a normal conversation
So quiet, your neighbors will thank you. The EU2200i operates at 48 to 57 dBA, which is less noise than a normal conversation. This makes it ideal for camping, supplemental RV power, and any other activity that requires a quiet operation.
Easy starting, every time
The EU2200i is designed for quick and easy starting. Honda's automatic mechanical decompressor system significantly reduces the amount of force needed to start the engine. Operational contact points are color-coded in gray to quickly guide the user through the starting operation.
Lightweight and compact
Weighing less than 47 pounds, the EU2200i is incredibly lightweight and portable. Thanks to Honda's inverter technology, it's easy to transport and store.
Fuel efficient – runs up to 8.1 hrs on less than a gallon of fuel
Thanks to our exclusive Eco-Throttle System, the EU2200i offers great fuel efficiency. Runs 3.2 to 8.1 hours on a single tank, depending on the load. This makes it great for overnight power.
Advanced inverter technology – reliable power for computers and other sensitive equipment
Honda's inverter technology means stable, clean power in a smaller, lighter package. The precision of Honda's inverter technology ensures our inverter generators produce power that is as reliable as the power you get from your outlets at home.
Double your power with parallel capability
Need more power? Add a second EU2200i for additional power. Two identical models can be paralleled with an optional cable for up to 4400 watts of power. The EU2200i will also parallel with EU2000iK1/T1 models. Find a complete serial number list at the link below.
Easier oil changes
A bigger oil filler opening, longer spout, and larger oil drain gutter make for easier and cleaner oil changes.
Fuel shutoff ("Fuel Off" position)
The "Fuel Off" position allows the engine to continue to run until the majority of the fuel in the carburetor is consumed and the engine shuts off. This helps prevent stale fuel issues and is useful when storing the generator.
12v – 8.3A unregulated DC output
Use when charging 12-volt automotive type batteries. (Requires an optional charging cord.)
Better overall durability
It's the little things that show a product's quality and durability. Like the stamped metal recoil rope insert on the EU2200i – reducing potential damage to the body of the generator. Or the increased ventilation area, resulting in improved cooling of key components. Or the improved stator/rotor configuration, using some of the highest quality and most powerful magnets available.
Protected by Oil Alert®
Protects the generator by shutting the engine off when low oil is detected.
USDA-qualified spark arrestor/muffler
Meets USDA standards for areas where spark arrestors are required for operation.
Electronic Circuit Breaker
Protects the generator from an overload condition.
3 year residential and commercial warranty
You can rest easy, knowing your generator is covered from top to bottom for 3 full years.
The Honda is a bit pricey but quality doesn't come cheap with an average cost of around $999 
Check Price!

---
3.) Yamaha EF2000iSv2
---
---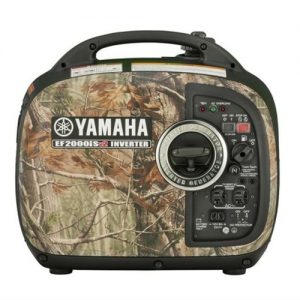 The Yamaha 2000 Watt EF2000iSv2 incorporates a completely new controller with advanced programming, allowing the EF2000iSv2 the ability to power a much wider range of applications. It weighs in at 44.1 pounds, making it easily portable. Among the quietest portable generators in its class, the EF2000iSv2 features Smart Throttle technology which allows greater fuel efficiency and noise reduction.
Features:
Fuel Petcock ‐ Prevents stale gas problems and gummed‐up carburetors.
Fuel Gauge ‐ Allows quick fuel level inspection without turning off the unit and removing the fuel cap.
Smart Throttle™ ‐ Varies engine speed based on load, improving fuel economy as well as reducing noise and engine wear.
Electrical Overload Breaker – Prevents generator damage, in case of overload.
Oil Watch Warning System ‐ Prevents engine damage caused by low oil, avoiding costly repairs and minimizing downtime, adding customer confidence and peace‐of‐mind.
TwinTech™ – Hook up two EF2000iSv2 generators for up to 30 amps of maximum power (requires accessory TwinTech II or Sidewinder cable, available for purchase).
The EF2000iSv2 incorporates a completely new controller with advanced programming resulting in improved output characteristics between 1600w-2000w operation ranges. The addition of the new programming allows the EF2000iSv2 the ability to power a much wider range of applications than previous generation EF2000iS.
If you need extra power the EF2000iSv2 has you covered—a convenient parallel function lets you connect two generators to deliver up to 30 amps.
The EF2000iSv2 is powerful, portable and retro-modern and delivers maximum output with minimum effort. It weighs a mere 44 pounds, making it easy to transport. Super Lightweight for 2000 watts.
The EF2000iSv2 is fitted with Yamaha's most technologically sophisticated muffler. It's So quiet that you can have a conversation near one and may not realize it is running. (51.5 dBA to 61 dBA – ¼ rated to rated load).
It is very compact (2.2 cu.ft.) which makes it easy to store and transport.
Long Run Time – The EF2000iSv2 features Smart Throttle, a load sensing rpm control that allows greater fuel efficiency and noise reduction by automatically adjusting engine speed to match the load. It will run up to 10.5 hours at ¼ rated load on a tank of gas.
The Yamaha EF2000iSv2 Inverter generator supplies clean, high-quality power. The EF2000iSV2 – with its inverter system – features Pulse Width Modulation (PWM) so voltage stability is within ± 1%, and frequency stability is ± 0.1 HZ. Its pure sine wave is as clean as or cleaner than public utilities power.
Yamaha generators have the longest emission engine durability ratings issued by the Environmental Protection Agency and the California Air Resources Board.
ADDITIONAL FEATURES:
Lightweight ‐ Easy transport.
Compact ‐ 2.2 cu.ft. size is easy to store and transport
Twin Tech (Parallel generator operation) ‐ The EF2000iSv2 can be operated in parallel to deliver up to 30 amps.
Parallel generator operation ‐ The EF2000iSv2 may be connected in parallel with an earlier model Yamaha EF2000iS.
A new controller with advanced programming ‐ The addition of the new programming allows the EF2000iSv2 the ability to power a much wider range of applications than previous generation EF2000iS.
Smart Throttle varies engine speed based on load ‐ Improves fuel economy and reduces noise. Runs up to 10.5 hours at ¼ rated load on a tank of gas.
Gasoline petcock ‐ Lets you shut off the gas to run the carb dry for storage and helps prevent stale gas problems.
Fuel gauge ‐ See fuel gauge at-a-glance.
Inverter system with Pulse Width Modulation (PWM) control ‐ Produces a pure sine wave to run products with built-in microcomputers or microcomputer-controlled electric tools.
OHV engine with cast iron cylinder liner ‐ Efficient, reliable, powerful providing long life and excellent heat dissipation.
OHV engine ‐ Includes steel camshaft and valve train components.
EPA & CARB Emission Engine Durability Rating ‐ Yamaha generators have the longest emission engine durability ratings issued by the Environmental Protection Agency and the California Air Resources Board.
Oil Watch Warning system ‐ Prevents engine damage caused by low oil, avoiding costly repairs and minimizing downtime, adding customer confidence and peace of mind.
Auto-decompression system ‐ Reduces compression for easier starting.
Comfortable grip handle ‐ Easy portability and storage.
Electrical overload breaker ‐ Prevents generator damage in case of overload.
Centralized controls ‐ Easy access to controls.
DC Outlet ‐ 8A 12V outlet for charging batteries (cables included).
Rubber vibration isolation feet ‐ Absorbing feet for smooth operation and noise reduction.
The Yamaha EF2000iSv2 is packed with features but the price tag packs a punch as well with a list prices at around $900 
---
4. Polaris P2000i
---
---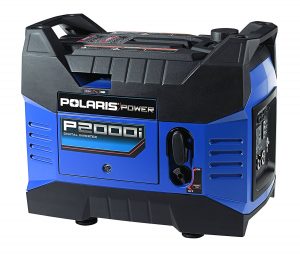 Polaris Industries Inc. a leader in power sports leveraged over 60 years of technical expertise developing and testing to ensure the POWER generator product line can handle any task you need it for years to come. Simply put, it's quiet and your neighbors will remain happy while your Polaris POWER generator is in operation with real-world testing producing a mire 54.4 dB(A) it's quieter than a normal conversation at 25% load. The Polaris P2000i is light and compact, only 53.3 pounds with 2 ergonomically designed handles anyone can easily move to the ideal location.
Knowing space is always a premium the flat surface top enables an ideal spot for lighter items. The Polaris P2000i is extremely simple to operate and delivers exceptional fuel efficiency on a tank of gas (.98 Gallons) at 25% load (400Watts) will over 10 hours of run time on utilizing its standard the economy throttle switch. Capable of producing 2000 watts maximum AC output (1600watts rated) the P2000i digital inverter is the perfect addition to safely power small electronics, such as a TV while tailgating or an expensive laptop while away from home. It features dual 120 volt AC outlets with circuit breaker protection that is resettable while the engine is running and a fused 12 volt DC outlet and charging cord.
The Polaris P2000i also features a low oil sensor to stop and protect the engine from mechanical damage and expense on the occasion of low oil. Additionally, this generator is parallel capable, enabling 2 units to be connected together for even more output when needed and giving you the choice of paring it with another P1000i or combining with a P2000i for additional power. Oil and gasoline must be added prior to first use and is NOT included. Polaris 5W-30 Generator Oil is recommended.
Features:
Highly Portable
The P2000i is lightweight, easy to carry, and easy to store. It weighs 53.3 lbs. and measures 21.4 x 13 x 17.7 inches. It features ergonomically designed Lock & Ride enabled handles and rubber insulation feet.
Fuel Efficient
With Smart Throttle on, a gallon of gas provides 10 hours of fuel-efficient run time at 25% load. Other features include a low oil warning light, auto shutdown, and a SMART throttle switch.
Versatile
The Polaris P2000i makes an efficient sole power source and can run multiple devices at once. It features two 120V AC receptacles, a 12V DC receptacle, and a parallel receptacle, which enables you to connect two units together for greater power output. The parallel system matches the frequency and evenly distributes the load to each generator so one is not overloaded.
Certified
This four-stroke, air-cooled, single OHC engine runs 10 hours on one gallon of regular unleaded gasoline (25% load) and emits a sound comparable to a casual conversation, (56 vs. 60 dBA). It's CSA Group certified, meets EPA and CARB emissions standards, and features US Forest Service-approved spark arrestors.

The Polaris is the last of our high-end option with an average price tag of around $900
---
6.) WEN 56200i
---
---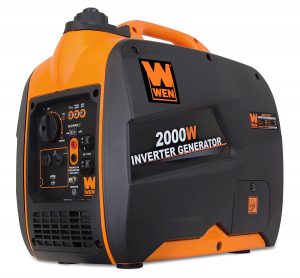 Remember when you had clean and efficient portable power? The WEN 2,000 Watt Inverter Generator produces clean energy free of voltage spikes and drops. The WEN 2,000 Watt Inverter Generator produces clean energy free of voltage spikes and drops. Designed to mirror a pure sine wave, this generator limits total harmonic distortion to under 0.3 percent at no load and under 1.2 percent at full load, making it safe enough to run laptops, cell phones, monitors, tablets and other vulnerable electronics. Generate 2000 surge watts and 1600 rated watts of power. Our 79.7 cc 4-stroke OHV engine operates at an extremely quiet 51 decibels, quieter than a window air conditioner or the average conversation. This limits its invasiveness while hunting, camping, tailgating and restoring backup power. The lightweight design makes for easy portability while the ultra-efficient one-gallon tank provides over 4 hours of half-load runtime.
This fully-packed panel comes equipped with two three-prong 120V receptacles, one 12V DC receptacle, and one 5V USB port. Maximize fuel economy by engaging the WEN 2000 Watt Inverter Generator's Electronic Speed Control Throttle. This feature allows the generator's motor to automatically adjust its fuel consumption as items are plugged and unplugged from the panel, preventing the use of unnecessary gasoline. Need more energy? Easily link up two generators using a parallel kit (sold separately) in order to share wattage amongst multiple units. Low-oil and low-fuel automatic shutdown with indication lights along with overload protection safeguard both your generator and your electronics from damage. And because this is a WEN Product, your inverter generator comes backed by a 2-year warranty, a nationwide network of skilled service technicians and a friendly customer helpline. Remember when your generator powered your electronics safely and quietly? Remember WEN.
Features:
• Extremely quiet operation minimizes noise; EPA III and CARB Compliant
• 79.7 cc 4-stroke OHV engine produces 2000 surge watts and 1600 rated watts
• Great for the campgrounds, the country, the parking lot and power outages
• Produces clean power to prevent damage from sensitive electronics such as smartphones, tablets, and laptops
• Includes two three-prong 120V receptacles, one 12V DC receptacle, and one 5V USB port
Coming in at the top of the value list the WEN provides excellent bang for the buck with an average price of $500
---
6.) Westinghouse iGen2200
---
---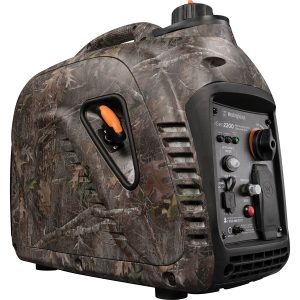 The powerful Westinghouse iGen2200 portable inverter generator produces 2,200 peak watts and 1,800 running watts, making it perfect as an emergency backup for home use or for recreational uses such as camping and tailgating. The iGen2200 can power most refrigerators and large appliances including a gas furnace, as well a computer, TV, lights and much more simultaneously. This generator can also power a 13,500 BTU air conditioner with ease. It's ultra-portable, weighing only 46 lbs.
The iGen2200 is also among the quietest generators on the market and operates at only 52 dB, making it quieter than a normal conversation. Unlike traditional open-frame generators, the iGen2200 safely powers electronic devices by producing clean, stable electricity that is just as dependable and safe as the power you get from your home. Powered by a 4-stroke OHV Westinghouse engine, the iGen2200 is engineered to automatically adjust its engine speed to produce only the amount of power needed to meet the demand of the load being placed on it, resulting in exceptional fuel efficiency. If you need more power, the iGen2200 is parallel capable and can be paired with another Westinghouse inverter using the Westinghouse Parallel Cord (sold separately). The iGen2200 also has premium built-in safety features including low oil shutdown and overload protection. Additionally, the iGen2200 digital inverter generator is backed by a 3-year limited warranty and Westinghouse's lifetime technical support.
Features:
1800 Rated Watts and 2200 Peak Watts at Less Than 3% THD – Weighs Only 46 Lbs. – Gas Powered – Two 120V 20 Amp Outlets, Two USB Outlets
Rugged TrueTimber Kanati Camouflage (Woodland) Finish – Great Choice for Home Use as an Emergency Backup in a Power Outage – Strong Enough to Run All Your Home Essentials
Extremely Quiet, Extremely Fuel Efficient: 52 dB Noise Output and 12 Hour Run Time at 25% Load (1.2 Gallon Gas Tank) – Features "Efficiency Mode" for Maximum Fuel Efficiency
Parallel Capable – Combine Your iGen2200 with the Westinghouse WH2200iXLT, iGen1200, iGen2200, and iGen2500 to Increase Available Wattage and Amperage (Requires Westinghouse Parallel Cord)
Three Year Warranty and Free Lifetime Technical Support at 1-855-944-3571 – EPA, USFS, and CARB Compliant (Legal for Sale in California)
Great generator in the value price range average cost of $550
---
7.) Pulsar PG2000iS
---
---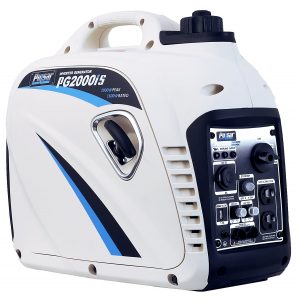 For pure, clean power and ultimate portability, nothing beats the Pulsar 2000iS digital, inverter generator. Ideal for outdoor power and entertainment the 2000iS generates just 59 dB of noise making it virtually silent from as little as 10 feet away.
Weighing in at just 47 pounds and having a handy "suitcase" design, the 2000iS is the utmost in portability while providing pure, safe electrical power through not only dual 120-volt outlets but a 12V "cigarette" outlet and a direct connect USB outlet designed to recharge cellular telephones and laptops. Operating for up to eight hours on just 1.18 gallons of gasoline, the PG2000iS is designed for years of reliable performance regardless of where you are.
Features:
• 2000W PEAK, 1600W RATED
• FEATURES A STABLE SINE WAVE TO USE WITH SENSITIVE ELECTRONIC EQUIPMENT
• SLEEK IMPACT RESISTANT DESIGN
• 80cc OHV ENGINE
• RUNS 8 HOURS AT 1/2 LOAD
• OPERATING NOISE ~59 DECIBELS
• 2-AC 120V 13A OUTLETS, 1-12V DC 8A OUTLET, 1-5V DC USB OUTLET
• CIRCUIT BREAKERS
• LOW OIL INDICATOR WITH LOW OIL SHUTDOWN
• FUEL TANK SIZE: 1.18GAL./4.5L
• INCLUDES 12V CHARGING CABLE, SPARK PLUG WRENCH, 10W30 OIL BOTTLE (350ML), AND FUNNEL
Another great value with high reviews from purchasers, with an average price at around $400
---
8.) Briggs & Stratton 30651 P2200
---
---

When you take off on your next adventure, you don't have to leave comfort and fun behind. Ideal for camping, tailgating, and DIY projects, the P2200 PowerSmart Series inverter generator provides quiet, lightweight and efficient power.
Engineered to be compact and easy-to-transport, the unit's H-handle design ensures convenient carrying by one or two people.
The Briggs & Stratton 30651 PowerSmart Series 2,200-Watt Gasoline Powered Portable Inverter is perfect for your camping needs and produces clean and instant power to keep appliances and other important electronics powered during trips in your RV.
The 30651's computer-controlled engine continuously adjusts its speed to your power needs for efficient, consistent and quiet power.
The two handle design makes it easy to transport and it produces smoother power for sensitive electronics. This generator is equipped with (2) 120-Volt household outlets and (1) 12-Volt DC accessory battery charging outlet. This unit features an onboard low oil and overload alert system and PowerSmart mode to automatically adjust engine speed to save fuel and run longer.
The Briggs & Stratton 30651 PowerSmart Series 2,200-Watt Gasoline Powered Portable Inverter comes with a 2-year limited warranty to protect against defects in materials and workmanship.
For more than a century, Briggs & Stratton branded engines and power equipment have helped consumers get the job done. Known for hard-working, dependable, efficient products, Briggs & Stratton is the world's largest producer of gasoline engines for outdoor power equipment. Briggs & Stratton products are designed, manufactured, marketed and serviced in over 100 countries on all seven continents.
38% quieter and 45% lighter than a traditional camping generator
Enough power to run multiple appliances at once.
1 Gal. fuel tank for an impressive 6-hours of continuous operation at 25% load on a full tank
Technical specs: 1700 running watts, 2200 starting watts, permanent magnet alternator, recoil start, automatic idle control and low oil shutdown.
Includes engine oil, quick start guide, operator's manual.
Briggs & Stratton 30651 is also a great buy with an average price tag of around $500 

---
9.) Champion Power Equipment 73536i
---
---
The Champion Power Equipment 73536i 2000 Watt Stackable Portable Inverter Generator is a quiet and lightweight addition to your RV, your next camping trip or a weekend of tailgating. It is perfect for powering items around the RV or campsite like lights, TV, small refrigerator, slow cooker or coffee maker. (Note: this unit is not recommended for emergency home backup power and will not power air conditioners, stoves, furnaces or sump pumps.) The inverter produces 2000 starting watts and 1700 running watts. The unit features a patented, space-saving stackable design. With parallel capability, the inverter has the ability to connect with another Champion 2000 Watt Inverter for 30A of power.
Features:
• Stackable – The patented, space-saving stackable design is Parallel Ready and can connect with another 2000-watt inverter to double your output power
• Ultra-Quiet Operation – 53 dBA from 23 feet is perfect for camping, tailgating or to back up a few home essentials, featuring 2000 starting watts, 1700 running watts and up to 9.5 hours run time. Gasoline Tank Material – Steel
• Clean Power for Sensitive Electronics – Includes two 120V 20A household outlets with clean electricity (less than 3% THD) and 12V DC outlet
• Smart Economy Mode – Can reduce the electrical load, providing quieter operation, extended engine life and better fuel economy
• Champion Support – Includes 3-year limited warranty with FREE lifetime technical support from dedicated experts
Champion is another of the great value options with an average price tag of $400
---
10.) Generac 7117 GP2200i
---
---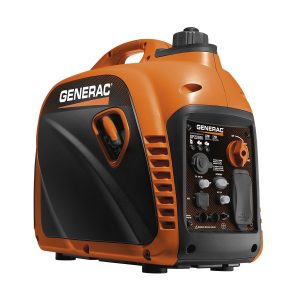 Generac's GP2200i inverter generator provides outdoor enthusiasts with a portable power solution designed for a variety of open-air festivities. From weekends in the woods to outdoor cookouts and get-togethers, the GP2200i provides the stable power you need without disturbing neighbors or surrounding wildlife. Using TruePower Technology, the GP2200i produces the clean power required by a variety of sensitive electronics, tools, and appliances.
Compact and fully-enclosed, its lightweight design makes transportation easy, and its Economy mode feature also reduces fuel consumption rates and noise emissions to operate quietly for extended periods of time. Whether you're tailgating for the big game or simply want to enhance your campsite experience without disrupting the environment around you, Generac's GP2200i inverter generator is right for you. The parallel capability allows you to connect two units together to power your RV air conditioner, lights, cell phone (via USB port) and other portable appliances at the same time. 2 years limited warranty.
Features:
• Quiet and neighbor-friendly, fully enclosed design dramatically reduces noise levels
• TruePower technology provides clean, stable power ideal for sensitive electronics, tools, and appliances
• Compact and lightweight makes transportation easy with built-in handle
• Economy mode automatically adjusts engine speeds to save fuel and reduce sound emissions
• Off/ run/ choke knob makes startup procedures simple
• LED indicators light alert you when the unit is low on oil, overloaded, or ready-to-use
• USB port to charge mobile devices
• Parallel ready allows you to connect 2 GP2200i inverter generators for twice the power
• Low-oil level shutdown automatically safeguards engine from incurring damage
• Covered outlets provide added protection from the environment
• Power: 2,200-watt maximum and 1,700 running watts
• Color: Orange
• Dimensions: 19.7 x 11.4 x 17.9 inches
• Weight: 46.6 pounds
Another great buy with an average price tag at around  $500
---
For more information on other models of portable generators that didn't make the list Wen, Generac, Champion, Westinghouse, Champion, and more check out sourcepowersolutions.com