---
Adventure lovers have always found ways to spice up different forms of activities, and fishing is not left out. Extreme forms of fishing include kayak fishing and SUP fishing. SUP fishing is one of the latest forms of extreme fishing with participants needing only basic items such as a paddleboard and the necessary fishing equipment.
The origin of SUP fishing has been traced to surfboard fishing: another form of extreme fishing, which was even riskier than SUP fishing. Surfboard fishing involved fishing from a surfboard, battling the waves and handling one's fishing gear. The popularity of SUP fishing grew as paddle boards began to take the center stage in the fishing world. Since paddle boards were more stable and easy to operate than surfboards, SUP fishing became more widely accepted and is known as a fishing segment today.
It is noteworthy that SUP fishing is a legitimate sport. SUP fishing is otherwise known as paddleboard fishing. SUP fishing has become popular amongst adventure lovers who engage in fishing for a number of reasons.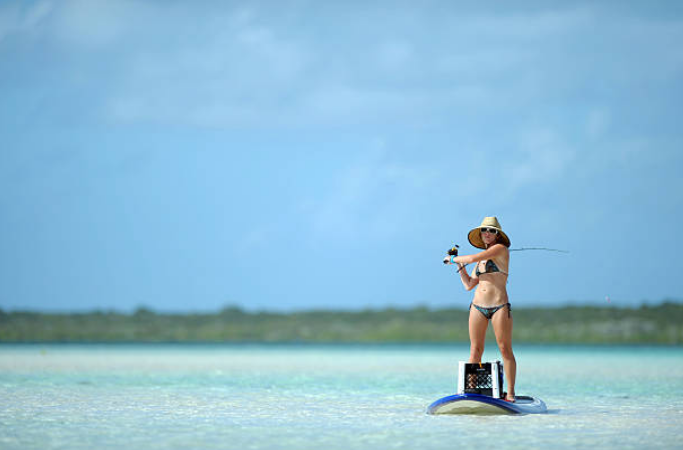 Firstly, the fact that it evolved from a riskier form of extreme fishing is notable. Surfboard fishing requires withstanding conditions that are quite risky. Combating the waves is already a tedious enough task. Combining combating the waves with operating a fishing gear poses the threat of a lot of danger. Surfboard fishing was thus restricted to only the bravest and most adventurous persons who also has the combination of excellent surfing skills and fishing skills.
SUP fishing, on the other hand, is carried out from a platform with better stability, the paddleboard. Although the paddleboard doesn't have a lot of room as it is basically a flat compartment, one can strap their cooler in a way that it serves as a sit which offers much more comfort than is achievable with surfboard fishing. Anyone who loves a healthy dose of adventure with basic skills can engage in this form of extreme fishing.
Although SUP fishing provides more stability than surfboard fishing, it also presents the element of danger that makes it extreme fishing. If one loses their footing while trying to make a catch, for example, they could easily find themselves in the water.
The paddle board could be described as a portable dock on which one can head out to their preferred waters and get their adrenaline pumping while making a great catch. Apart from the cooler which would serve as the seat, the paddle board provides room for other essential fishing items such as a pole holder.
Also, one doesn't need to break the bank to acquire the materials they need for engaging in SUP fishing. The nature of the sport as an extreme yet affordable means of experiencing adventure and fun is notable. Because of this nature of the sport, it has attracted a lot of persons. Persons who love fishing and are looking into engaging in adventurous activities can opt for paddleboard fishing since the process of getting started doesn't cost a lot.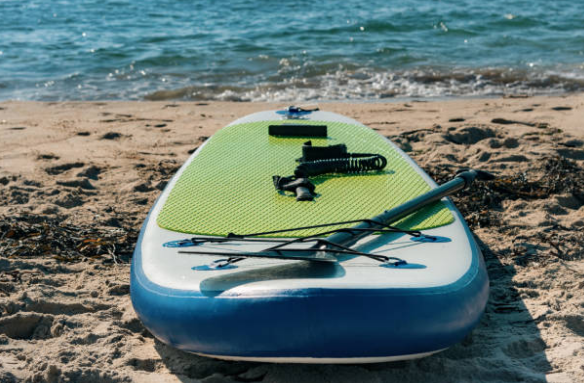 Research has shown that it cost a few hundred dollars to get a SUP boat, even one that would allow the attachment of more than the basic equipment. With a few hundred dollars, for example, one can get a SUP boat with room for the attachment of a motor.
Because of the growing interest in SUP fishing, manufacturers have ensured that extreme fishing enthusiasts can choose from a variety of available material. There is a wide range of SUP boats currently available on the market to cater to different preferences. One can opt for boats that are suitable for small waters or those that are suitable for the bigger waters. Boats suitable for bigger waters have features such as upright handle enhancing their stability and suitability for bigger waters. The boats that are suitable for bigger waters also have features such as room for an anchor as well as a motor.
SUP fishing is a growing extreme form of fishing because it is designed for the most fun. With manufacturers ensuring that enthusiasts of SUP fishing have required items in a different capacity, SUP fishing can be described as an extreme form of fishing that is here to stay.
A cooler typically serves as a seat on the SUP boat. A cooler thus plays an important role in SUP fishing. Coolers for SUP fishing can serve as more than seats, preserving food and drink items which one would need on their adventure.
LUNCIA cooler is a portable as well as a functional cooler that has a capacity that can hold up to 30 cans. The cooler can preserve stored items for up to 2 days with premium insulation features which include the airtight zippers as well as the high-density insulation foam.
---
---
Carrying the cooler around is also a breeze with handles as well as an adjustable strap. The exterior, as well as interior of the cooler, were made with particularly durable material. As you begin or continue your SUP fishing experience, you would need a cooler as reliable, portable and functional as the LUNCIA cooler.
---