---
---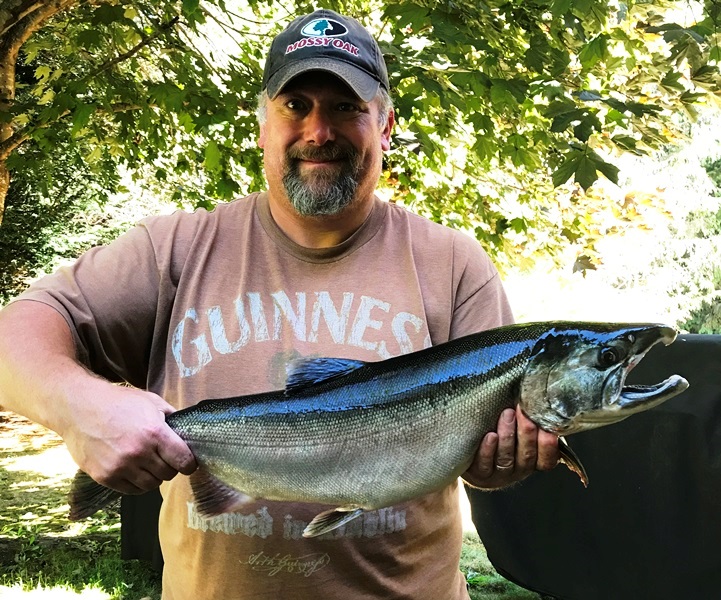 ---
Lunker Alert!
09/03/2017
2017 Quilcene river fishing report:

It was up and down this morning. Not near as many fish in the river as a week ago. Near the end I thought I'd be walking out with only half a limit when all of a sudden, Whammy! It was on. Within a few minutes I had landed an 8.5 LB Coho buck. This was the biggest fish I've caught so far this year and the biggest pulled out of the Wall hole that day. Most of the fish coming up have been pretty small this year, so this was a really nice fish to be able to put on the punch card.
It's interesting to see how fellow anglers respond to seeing such a fish caught. After I landed this beauty guys, were high fiving me and doing the old fist bump. Once I clubbed it and put it on the stringer it was hard not to notice how other anglers were coming over and stopping to have a look. It felt pretty good to take home a nice sized one that day. There is a certain satisfaction that you experience during such a moment that gives a person a real sense of pride.
Stay tuned for more Lunker's Guide fishing reports and fish on.
This concludes our 2017 Quilcene River fishing report.
---
For more information on Quilcene River salmon fishing CLICK HERE!
---
Lunker's Guide 2017 Quilcene River fishing report!
Click Here for more 2017 Quilcene River Fishing Reports.
Click here to go back to the most recent Washington Fishing Reports!
---