---
---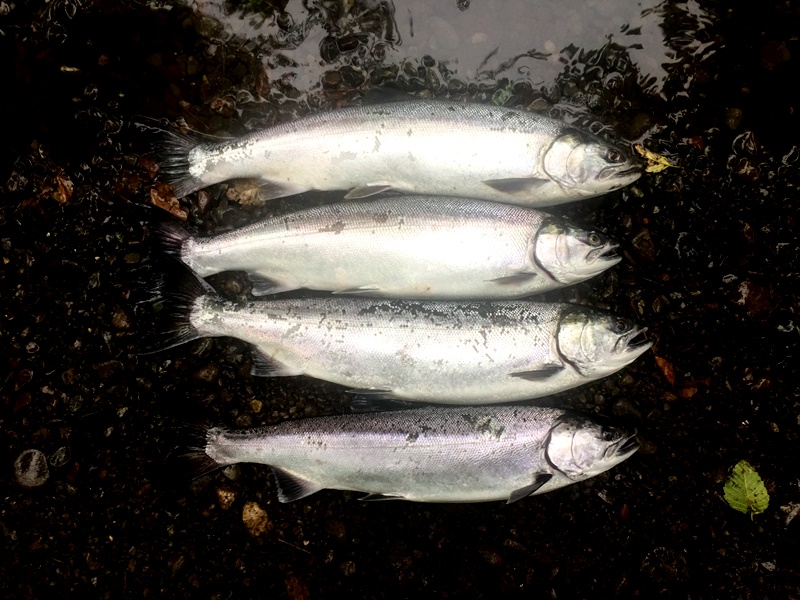 ---
Lunker Alert!
09/01/2017
2017 Quilcene river fishing report:

Been fishing the Big Quilcene river for the last two weeks and the fishing has been great up until last Wednesday when I only caught one. Thursday I got skunked for the first time since season opener. Today however was a completely different story. Showed up a 5:30 AM. with only a few anglers at the Wall hole. First cast nailed one, There was a nice little school in the hole and it wasn't long before I limited out and by 7:30 AM I was on my way home. It turned out to be a great day after all, even with only a few fish coming up the river. Hopefully tomorrow will bring more of the same.
The Big Quil is still a go. Just don't expect to many Coho to be around. There are allot of Chum in the river now and the Coho are starting to thin out. There are still plenty in the river, but the run has definitely started to die down. Still worth the trip though. I'll keep you all posted as to how the fishing is tomorrow. Good luck and fish on!
Stay tuned for more Lunker's Guide fishing reports and fish on.
This concludes our 2017 Quilcene River fishing report.
---
For more information on Quilcene River salmon fishing CLICK HERE!
---
Lunker's Guide 2017 Quilcene River fishing report!
Click Here for more 2017 Quilcene River Fishing Reports.
Click here to go back to the most recent Washington Fishing Reports!
---