Lunker Alert!
08/28/2015
2015 Cowlitz river Fishing Report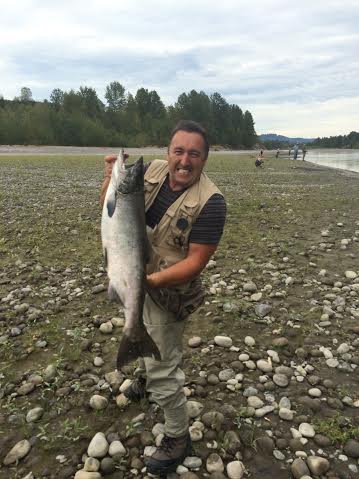 I swear! Where ever this guy goes he's catching fish. Last week on the Skokomish and today the Cowlitz river. Northwest angler Amir Kalabic hefts a brute of a King Caught on the Cowlitz earlier today, then a few minutes later he nails another one and goes for a double.
Amir attributes his success to the sweet scent of Pro Cures "Bloody Tuna" but anglers are catching with eggs and jigs under a bobber as well. The fishing has been pretty good on the Cowlitz. So if your planning on doing some fishing this weekend, The Cowlitz is the place to be. Kings and Steelhead are in decent numbers and regular limits are being caught.
Now is the time to hit the Cowlitz for prime time fishing.  So crab our pole and get on down there if you think you have what it takes to rake them in like Amir.
This is concludes our 2015 Cowlitz river fishing report.
For More information on the Cowlitz River such as Fishing maps, Spawn charts and more CLICK HERE!
Lunker's Guide 2015 Cowlitz River fishing Report!
Click Here for more Cowlitz River fishing reports!
Click here to go back to the most recent Washington Fishing Reports!
Click Here! To hire a Lunker Elite Guide for the Clowlitz River!