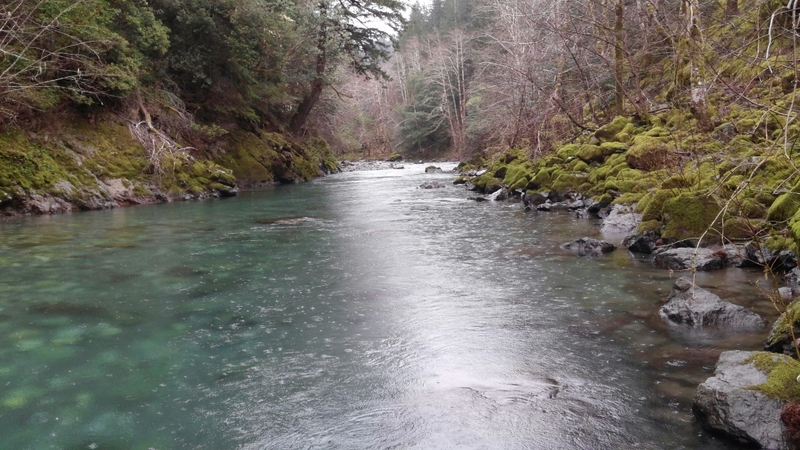 ---
Elk River Fishing:
Oregon salmon fishermen have long been attracted to the fall and winter king fishery offered by the Elk river. Literally thousands of Chinook enter the river in the months of November through January. Also in December healthy numbers of steelhead start to show offering excellent steelhead fishing as well.
The Elk river hatchery release an estimated 325,000 salmon smolts from Elk River incubation center every year. This makes the fish hookup ratio fairly high due to the fact that the Elk gets some of the strongest salmon runs of all the small rivers.
While October and early November are prime time on numerous Oregon waterfront streams, late November through January is the top of the salmon and steelhead runs on the Elk river. During that time of year the catch rate is generally one right after the other making for freezers full of prime grade salmon.
No engines are permitted on the Elk, so it's a float vessel only fishery.
Salmonid Species:



When to Fish
To view our timetable chart that indicates when salmon run this body of water become a member of Lunkersguide.com Today!!!!
Open for Chinook salmon and steelhead Jan. 1-March 31 and May 23-Dec. 31.
**See Oregon fishing REGS for exact times.
Daily Limits
This fishery generally allows: 
• No more than 1 adult non adipose fin-clipped Chinook salmon per day, 10 per year, in
aggregate from waters of the Floras/New River, Sixes River, Elk River and Elk River
Ocean Terminal Area.
• Non adipose fin-clipped steelhead may be taken; 1 per day, 5 per year as part of daily or
annual salmon/steelhead catch limit.
**See Oregon fishing REGS for details.
Preferred Tackle:
Single point barbless hooks. Corky and yarn, Jigs or spinners,
Bait:
Allowed!
Stink:
Allowed!
Tackle Tips:
Top Recommendation for this location is plunking or drifting sand shrimp or eggs. next possibly a stealhead jig, or corky and yarn and lastly spinners.
Combat Fishing Rating:
Formation: Pretty well spread apart with clustering in certain locations as always eye protection recommended!
Elk River Fishing Access:
Lunker Location Fishing maps are only available to Lunkersguide.com members. Sign up today and get access to all of our Salmon and Steelhead fishing location maps and to our free Lunker Alerts SMS/Text message fishing Alerts system which covers over 37 rivers in Washington. With a Lunker's guide membership you'll be well on your way to catching more lunkers!