---
Need a Wilson river fishing guide? Give Schmidty's Guide Service a call at (503) 939-8439
---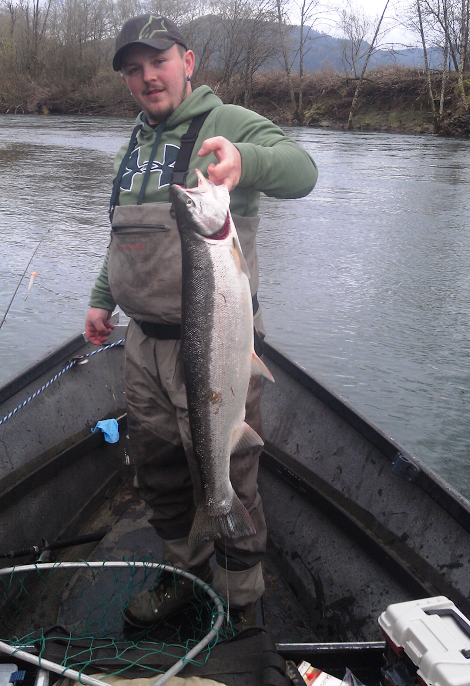 ---
Lunker Alert!
01/11/2016
2016 Wilson River Fishing Report: 
Over the last week the fishing on the Wilson has been phenomenal. Lots of steelhead in the river right now with excellent catch rates. We have been having great success drifting nightmare jigs, or beads and pink worms which all are producing well.
Also the native fish are in so that means there are some trophy class fish to be caught plus the hatchery fish numbers are good as well. This is and excellent time to hit the Wilson the take a shot at one of the big ones. Just be aware native fish retention is not allowed, so if you do hook into one of those wild monsters be sure to release the fish as safely as possible.
Also if you would like to hire a Wilson river fishing guide please give us a call. We offer drift boat trips down the Wilson and will make sure to get you on the best holes the river has to offer. Feel free to give us a call today.
This Report courtesy of Schmidty's Guide Service! If you looking for a Wilson river fishing guide give Schmidty's a call. (503) 939-8439
This concludes our 2016 Wilson River Fishing Report.
---
Wilson River Water Levels & Flow Rate
---
For Fishing access maps , Spawn charts and mobile alerts and more CLICK HERE!
---
Lunker's Guide 2015 Wilson River Fishing Report!
---
---
Wilson river fishing maps, Wilson river summer run Chinook,  Fishing on the Wilson river, Wilson river fishing guides, Wilson river fishing trips, Wilson river fishing access, Wilson river fishing spots, Wilson river fishing hot spots, Wilson river fishing locations, Wilson river winter steelhead, Wilson river steelhead fishing, Wilson river fall coho fishing, Wilson River Guide, Wilson River Guided Fishing Trips, Wilson River Fall Chinook, Wilson River Spring Chinook, Wilson River Fishing Access locations, Wilson River Fishing Techniques, Best Methods for fishing the Wilson River,  Guides on the Wilson River, Best Wilson River Guide, Southwest Oregon Fishing Guides, Southwest Oregon Guides.
---