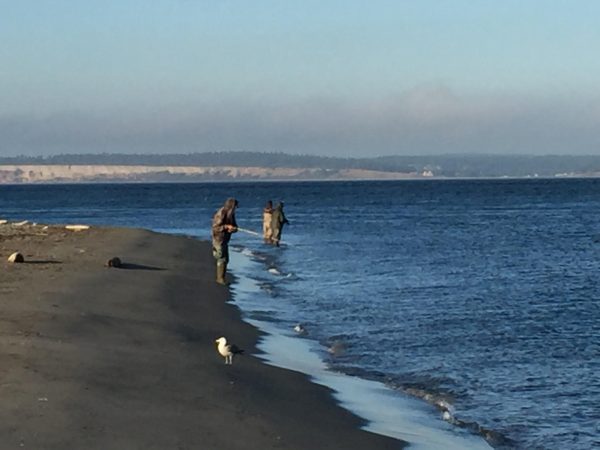 ---
Located in Port Townsend, WA
---
Point Wilson Fishing:

Point Wilson is located in Fort Warden State Park which offers about a mile of prime beach fishing and a decent fishing pier. Park your car out at the lighthouse and hit the beach to pitch herring or even better when fishing for Kings mooch candlefish. Then there is the pier where you can jig up a Coho or plunk for bottom fish from the deep. For Point Wilson fishing access see map below. Stay tuned for a Point Wilson Fishing Report when the salmon are running.
Salmonid Species:
When to Fish
To view a chart that indicates when the salmon run this body of water become a member of Lunkersguide.com Today!!!!
This river is catch and release pretty much year round, but from mid August till the end of October it is open to Salmon fishing.
**See Washington State fishing REGS for exact times.
Daily Limits
This fishery generally allows 2 Salmon per day.
**See Washington State fishing REGS for details.
Preferred Fishing Tackle:
Cut Plug Herring, Buzzbombs, Super bait, and spinners.
Bait:
Herring, and Candle Fish.
Stink:
Herring, Anchovy, Shrimp.
Tackle Tips:
Cut plug is by far the most productive at this location, Next Superbait then buzzbombs work well too and lastly Spinners.
Combat Fishing Rating:
Occasionally Stacked! On occasion anglers are stacked about 6 feet apart when the run is hot. Get there early to secure your spot or you may get pinched out.
Point Wilson Fishing Access:
Lunker Location Fishing maps are only available to Lunkersguide.com members. Sign up today and get access to all our fishing maps and get access to our free Lunker Alerts! text message fishing reports. With a Lunker's guide membership you'll be well on your way to catching more lunkers!