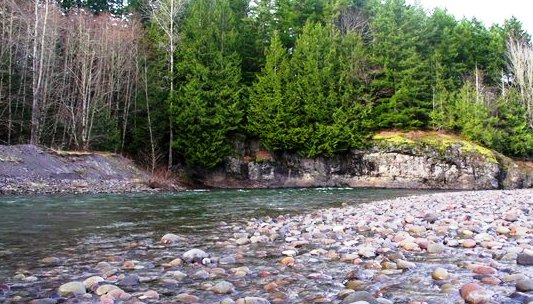 ---
Located in Cowlitz County, WA
---
Toutle River Fishing:
The Toutle river is part of the Cowlitz river system and was once well known for top notch Salmon and Steelhead fishing. After the Mt. St Helens eruption back in the 1980's salmon populations significantly declined. Thanks to Washington's hatchery program the salmon and steelhead populations have been restored and the Toutle is once again an upper tier salmon and steelhead fishery.  For Toutle River Fishing access see our Toutle River Fishing access map below.
Salmonid Species:
When to Fish
To view a chart that indicates when the salmon run this body of water become a member of Lunkersguide.com Today!!!!
Salmon generally runs August through November and Steelhead June through November.
**See Washington State fishing REGS for exact times.
Daily Limits
Limits usually run 6 Salmon per day with up to 2 adult Chinook allowed, Steelhead 2 hatchery fish per day.
**See Washington State fishing REGS for details.
Preferred Tackle:
One single point barbless hook. Corky and yarn, Jigs or spinners,
Bait:
Salmon Eggs, Sand Shrimp and Worms.
Stink:
Salmon Eggs, and Sand Shrimp.
Tackle Tips:
Top Recommendation for this location is plunking or drifting sand shrimp or eggs. next possibly a steelhead jig, or corky and yarn and lastly spinners.
Combat Fishing Rating:
Hand to Hand. Eye protection recommended!
Toutle River Fishing Access:
Lunker Location Fishing maps are only available to Lunkersguide.com members. Sign up today and get access to all of our Salmon and Steelhead fishing location maps and to our free Lunker Alerts SMS/Text message fishing Alerts system which covers over 37 rivers in Washington. With a Lunker's guide membership you'll be well on your way to catching more lunkers!