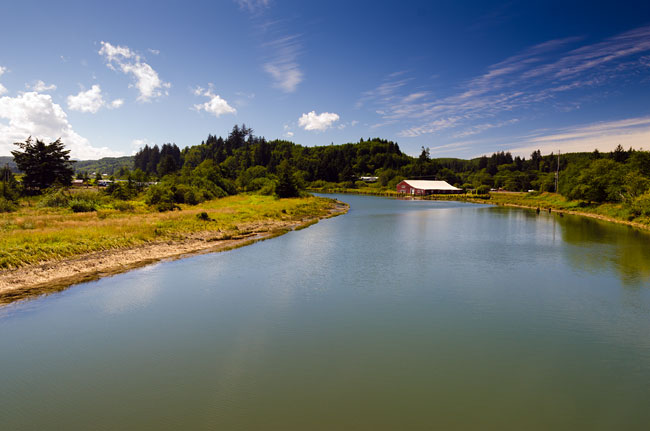 ---
Tillamook River Fishing
---
Chinook Salmon Fishing
Spring chinook are available in the bay from April through July, but fishing is best in May and June. Bank fishing areas are limited to a few pull-outs along Bay Ocean Rd on the upper Bay and an ADA accessible fishing platform on the Tillamook River along Hwy 131.
Fall chinook begin to arrive in late August, with October usually the best month. There is bank access along the Tillamook River on Fraser Rd, and at the privately-owned Hospital Hole, where anglers can pay a small fee to access a long stretch of Trask River tidewater. Bobber and bait (usually salmon roe and/or sand shrimp) and spinners are typical bank fishing techniques for chinook in Upper Tillamook Bay.
Summer and Winter Steelhead
Both the summer and winter steelhead that can be retained consist primarily of strays from the Trask river. From April through July summer steelhead run the river and August through March the winter steelhead make their journey. Although the Tillamook river itself isn't the main attraction as far a steelhead, they still run the river in fair numbers. Be aware only fin clipped steelhead may be retained as not many hatchery steelhead run this river.


When to Fish
To view our timetable chart that indicates when salmon run this body of water become a member of Lunkersguide.com Today!!!!
The Tillamook gets both spring and fall chinook as well as summer and winter steelhead.
**See Oregon State Department of Fish and Wildlife REGS for exact times.
Daily Limits
This fishery generally allows 2 adult fin clipped chinook per day or 2 fin clipped steelhead.
**See Oregon State Department of Fish and Wildlife REGS for details.
Required Tackle:
Barbless hooks are required when fishing for salmon or steelhead in Oregon.
Bait:
Herring, Roe, and shrimp.
Stink:
Natural bait scents tend to be the most effective like herring, sardine, or anchovy also salmon eggs, or shrimp scents work as well.
Effective Techniques:
Trolling bait fish or side drifting eggs or shrimp, Twitching jigs and throwing hardware like spoons and spinners can be effective as well.
Combat Fishing Rating:
No Significant Pressure. You might have some competition from boat traffic or bank fishing at the ADA access platform on the upper.
Tillamook River Fishing Access:
Lunker Location Fishing maps are only available to Lunkersguide.com members. Sign up today and get access to all of our Salmon and Steelhead fishing location maps and to our free Lunker Alerts SMS/Text message fishing Alerts system which covers over 37 rivers in Washington. With a Lunker's guide membership you'll be well on your way to catching more lunkers!
---